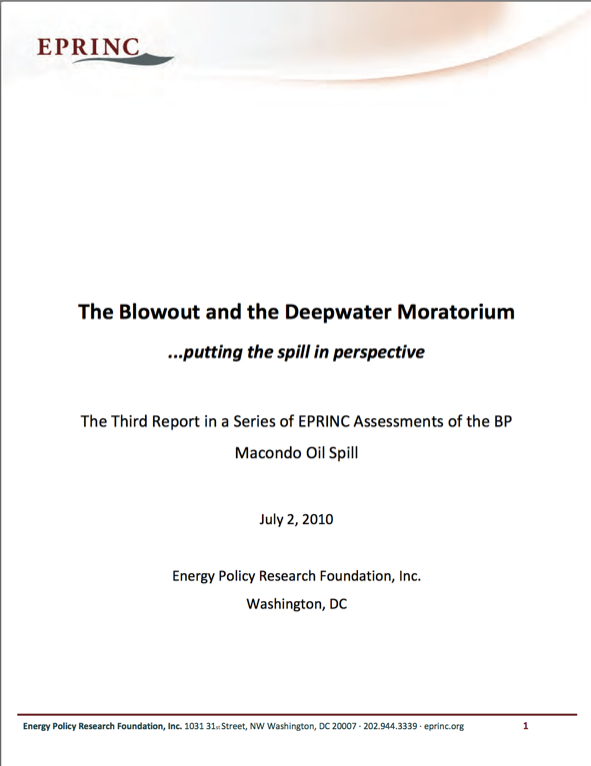 Posted on June 25, 2010, 03:12
EPRINC has created this page as a composite repository for its analysis of the BP Macondo spill. EPRINC will post its own analyses of the spill as well relevant primary and secondary documentation of interest.
EPRINC Publications

Oil Spill in the Gulf – Who is in Charge?  An EPRINC Briefing Memorandum – June 3, 2010
Proposed Agenda for the National Commission on the BP Deepwater Horizon Oil Spill – An EPRINC Briefing Memorandum – June 21, 2010
The Blowout and the Deepwater Moratorium…..putting the spill in perspective
– July 2, 2010
EPRINC's economic analysis of the offshore deepwater drilling moratorium following the BP-Macondo spill was published in abbreviated form in the September, 2010 issue of ENI's magazine Oil. The article can be downloaded as a PDF and the full issue can be accessed at Eni's website.
Alternative Safety Regimes – An overview of "safety cases" – a method of offshore safety regulation made popular in the North Sea. – Forthcoming

Map of Ten Largest Oil Spills – With Location, Size and Cause (.jpg)
Lou Pugliaresi's presentation on the blowout to Clingendael, July 1 2010, The Hague
Secondary Documents of Interest

National Academy of Engineering's experts' response to the Department of Interior's May 27 report on the spill
National Academy of Engineering's experts' fax to the Governor of Louisiana and Louisiana Senators regarding the Department of Interior's May 27 report on the spill